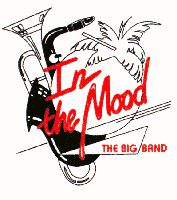 In the Mood...
is a 1940's style big band with an emphasis on danceable swing and standards. Full instrumentation includes:
5 Saxophones (2 Alto Saxes, 2 Tenor Saxes, 1 Baritone Sax)

4 Trombones

4 Trumpets

Keyboard, Bass Guitar, Drums

Male & Female Vocalists
Performing for over 25 years in Wisconsin and Illinois, the Milwaukee-based In the Mood has entertained thousands of guests at weddings, anniversaries, church festivals, club dates, fundraising events, country club engagements, corporate parties, and at major events such as: Rainbow Summer, Summerfest, and Jazz in the Park.. 
The age of the members is somewhat younger than many big bands with as much experience, which provides for fresh and energetic interpretations of the music of Glenn Miller, Count Basie, Woody Herman, Duke Ellington, Stan Kenton, Tommy Dorsey, Frank Sinatra, Bobby Darin, Harry Connick Jr., and other greats. 
Flexibility, professionalism, and enthusiasm are just some of the many reasons why In the Mood should be your first choice when your event calls for the elegance and excitement of a LIVE BIG BAND.  For bookings or information, call 262-363-3778, or CLICK HERE.